FUJIE Dedicated Moisture Proof Cabinet AD040
Brand: FujiE
Product Code: AD040
Availability: In Stock
---
FUJIE Dedicated Moisture Proof Cabinet AD040
Fujie dedicated moisture proof cabinet is manufactured on modern technology lines which meet international standard.
General description:
-              The cabinet includes 1 cabin,  two layers-glass door
-              There are trays inside, can be adjusted
-              There is a technical meter set up on the cabinet for display the humidity/temperature. A control button for adjusting the humidity inside.
-              There is 1 or some locks, up on the model
-              At the bottom, there are 4 screws for adjusting the balance of the cabinet
Specification:
1 block, 1 IC
Capacity: 40L
Voltage: 110-220V
Power: 4W
Dehumidifying scope: 30-80%RH
1 door, stainless iron lock
2 removable trays
Material: corrugated iron-1.5mm
Color of paint: black color, 2 powder coating layer 
Product dimension: 330x320x490mm
Packing dimension: 330x320x500mm
Net weight: 10kgs
Japanese technology – Genuine product
Status: Available
Warranty: 5 years
Shipment: Free in city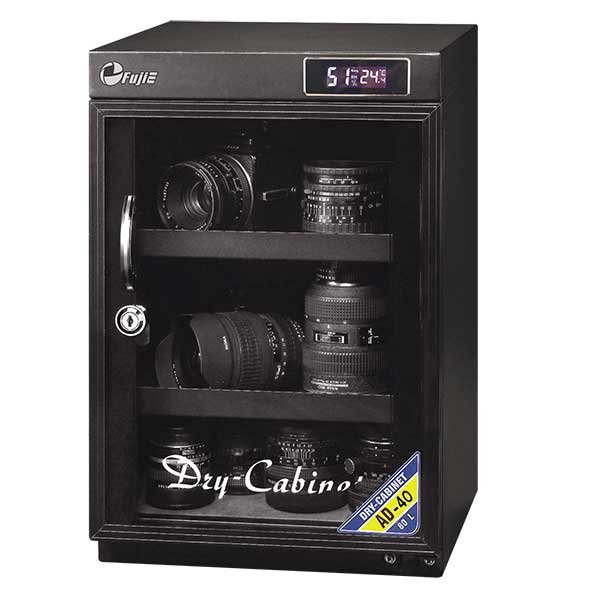 FUJIE Dedicated Moisture Proof Cabinet AD040